Collapsible Sled

Independent project
Design concept for KHW Geschwenda, Thuringia.

Collaboration
Max Kimpel

Concept development
Sketching, Ergonomic studies, CAD in Rhinoceros and Alias, Visualisations in Blender and Keyshot, Models in paper, cardboard and polypropylene, CNC milling, Material experiments.

Realisation
Stainless steel, Polyethylene, Belting, Carabiners.
800 x 400(600) x 250(20)mm
3.3kg

Tobogganing is a type of winter sport that may not be as popular as skiing, but is still a lot of fun and very popular in some regions. Inspired by the classic design of the Swiss "Davoser" sled, a lightweight, space-saving sled was developed and realised whose shaping principle is very simple.

A two-dimensional sheet of polyethylene is transformed into a three dimensional body. The runners are pushed over the edges of the body and provide stability. A strap system underneath the sled allows for the form to be reversibly fixed into position.

In addition to the economic advantages, the folding of the sled allows for easy transport and space-saving storage during the warmer months of the year. Its light weight enhances comfort and leaves the user with more energy for adventures in the snow.

The Collapsible sled summarises as a traditional yet modern product.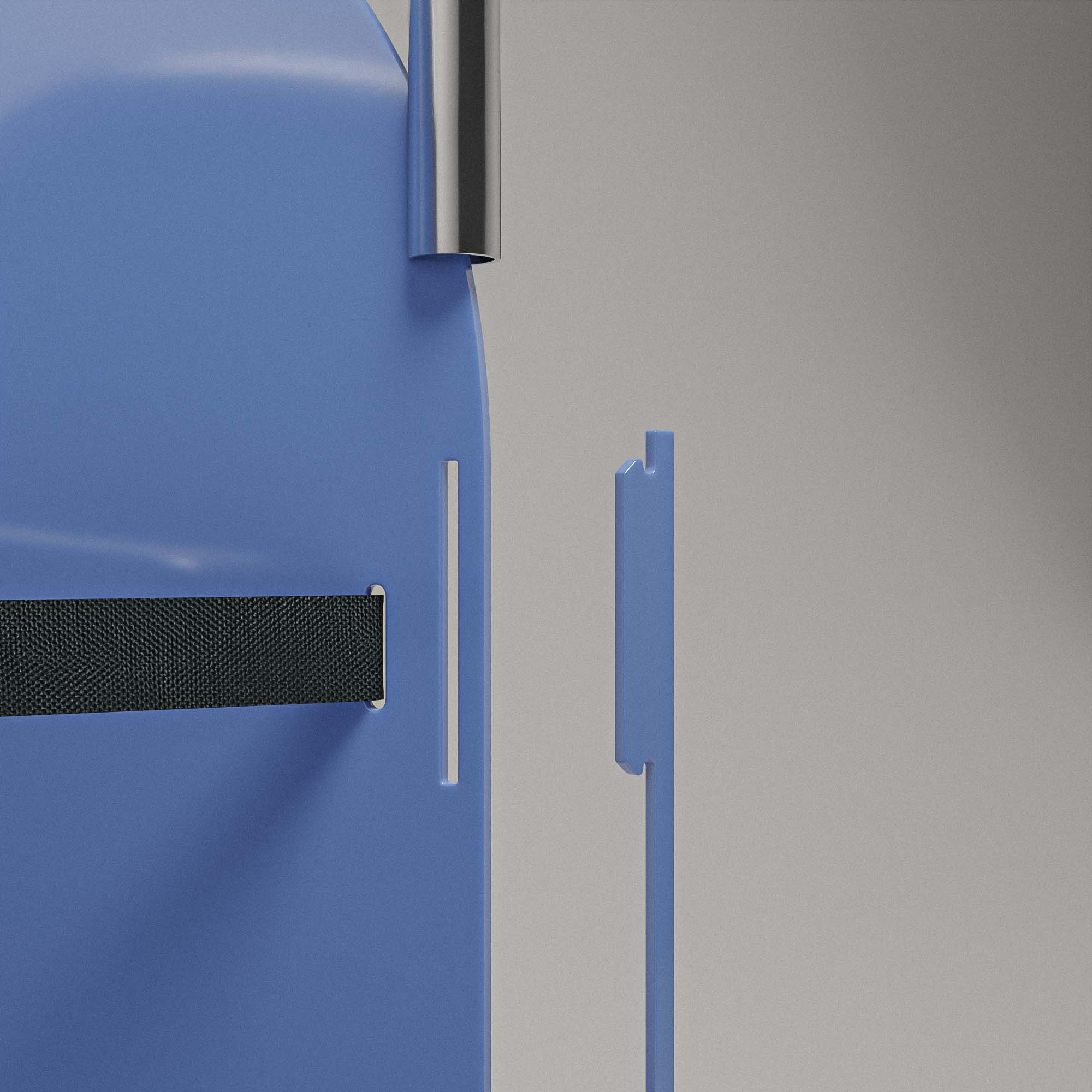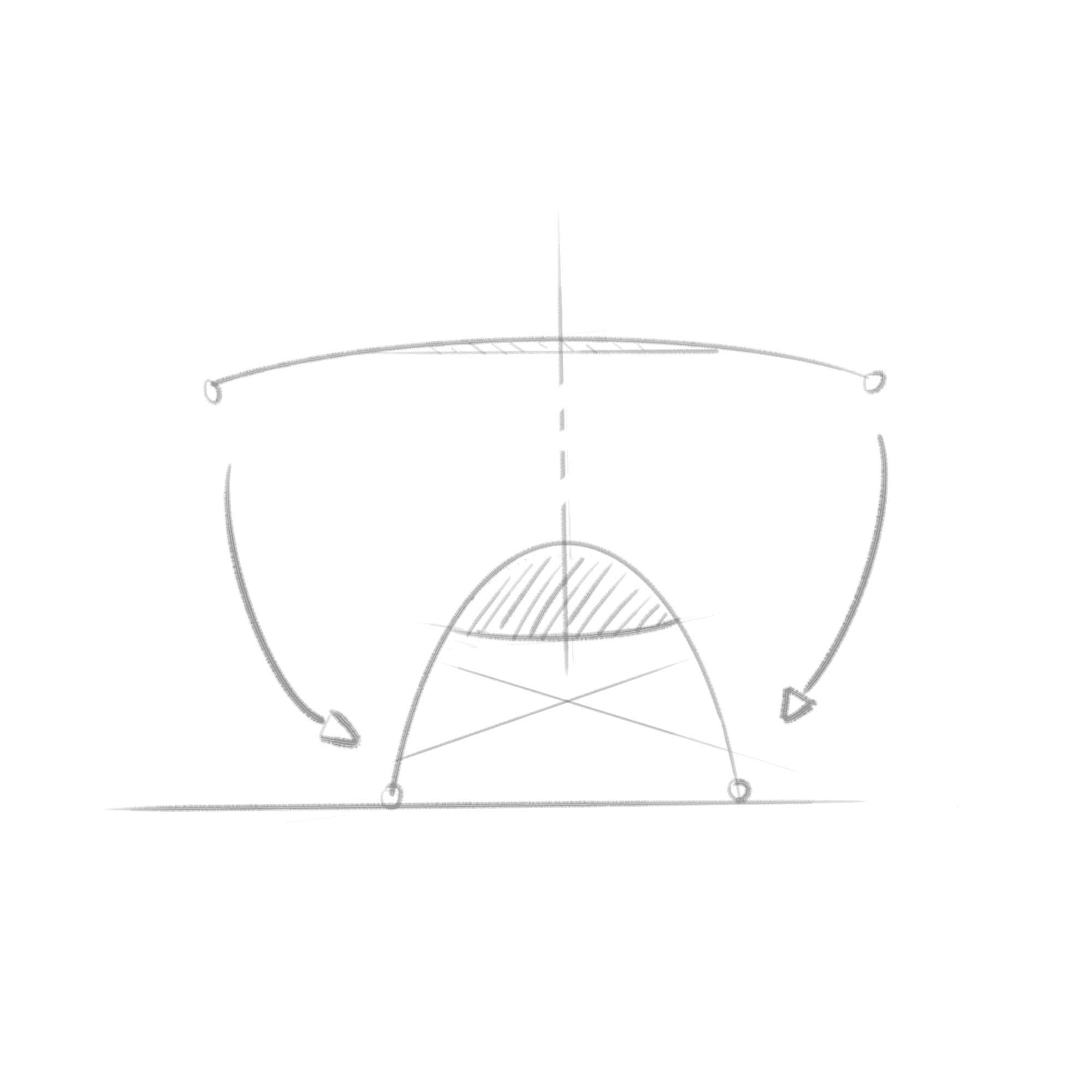 Vessels
Independent project
Research based design installation as part of my MA studies at Konstfack in 2018.
Concept development
Design research, Arduino, Protoyping in various materials, CAD in Rhinoceros, Visualisation in Keyshot.
Realisation
Pine, Ash veneer, Wood glue, Microphone, Amplifier, Microcontroller.
1500 x 900 x 570mm (per machine)
270–500 x Ø250–440mm (vessels)
Vessels represents an interactive manufacturing performance, in which five machines translate soundscapes into a collection of wooden vessels. Everyone and everything that is a stakeholder of the soundscape will influence the appearance of each vessel.

The project explores the ramifications of the design profession, creating a framework under which the ephemeral chain of everyday stories is taken up and materialised. The ever new variations of vessels become shared tokens of a specific time in space.

Vessels challenges the idea of personal ownership and comments on the entanglement of actor, artefact and context in envisioning surroundings where the borders of these three aspects are blurred.

Vessels received the Ung Svensk Form award in 2019 and was exhibited in several locations around Sweden.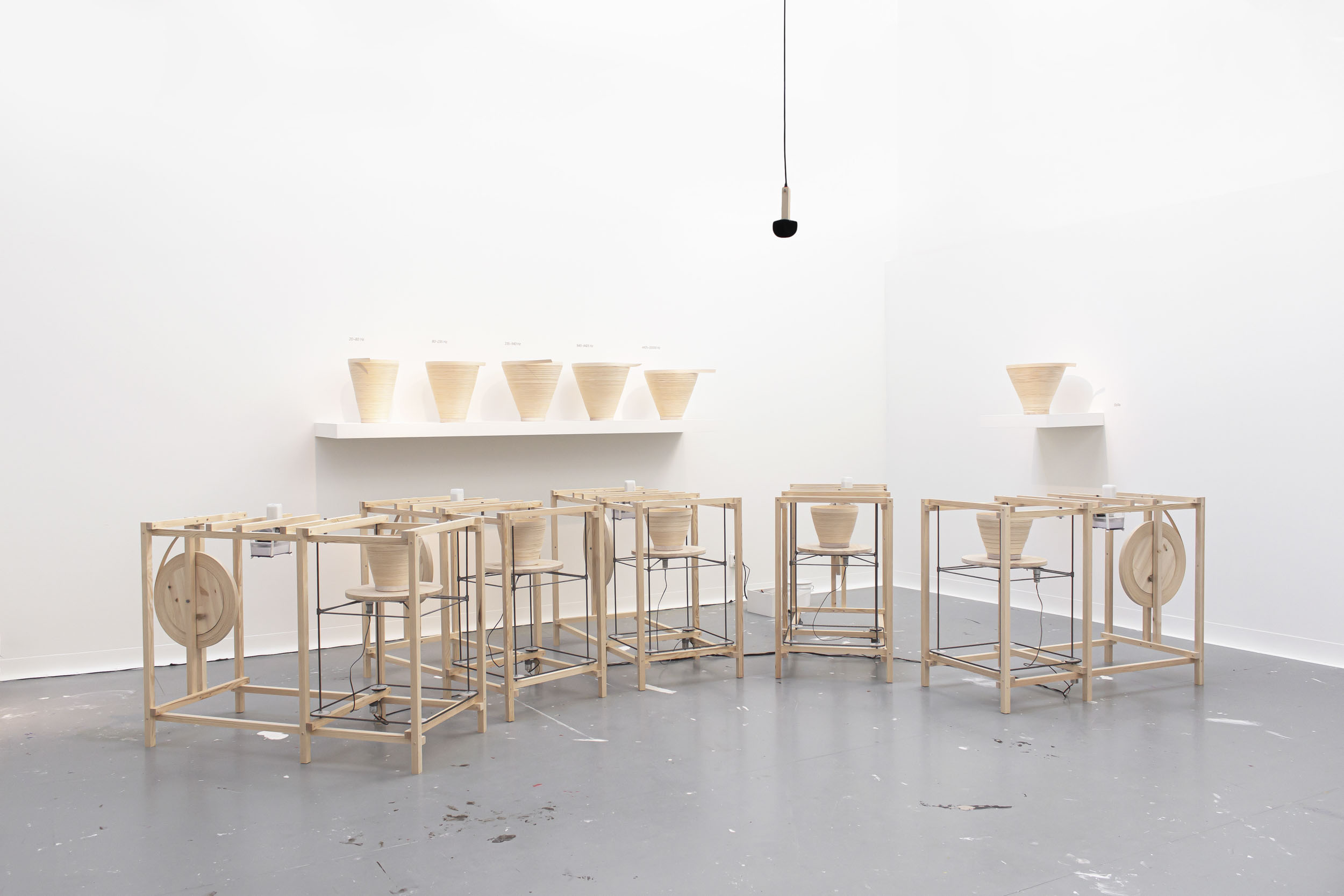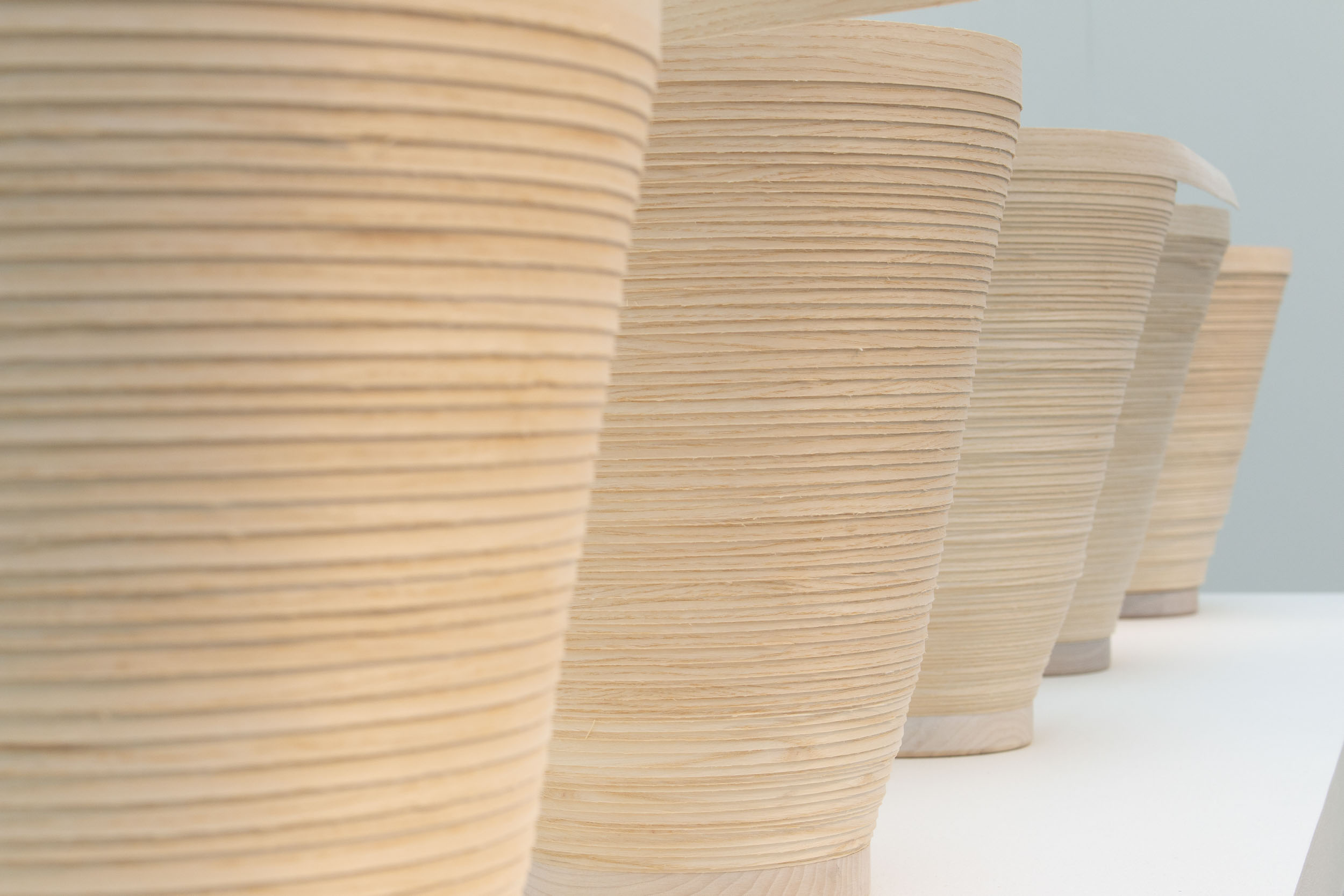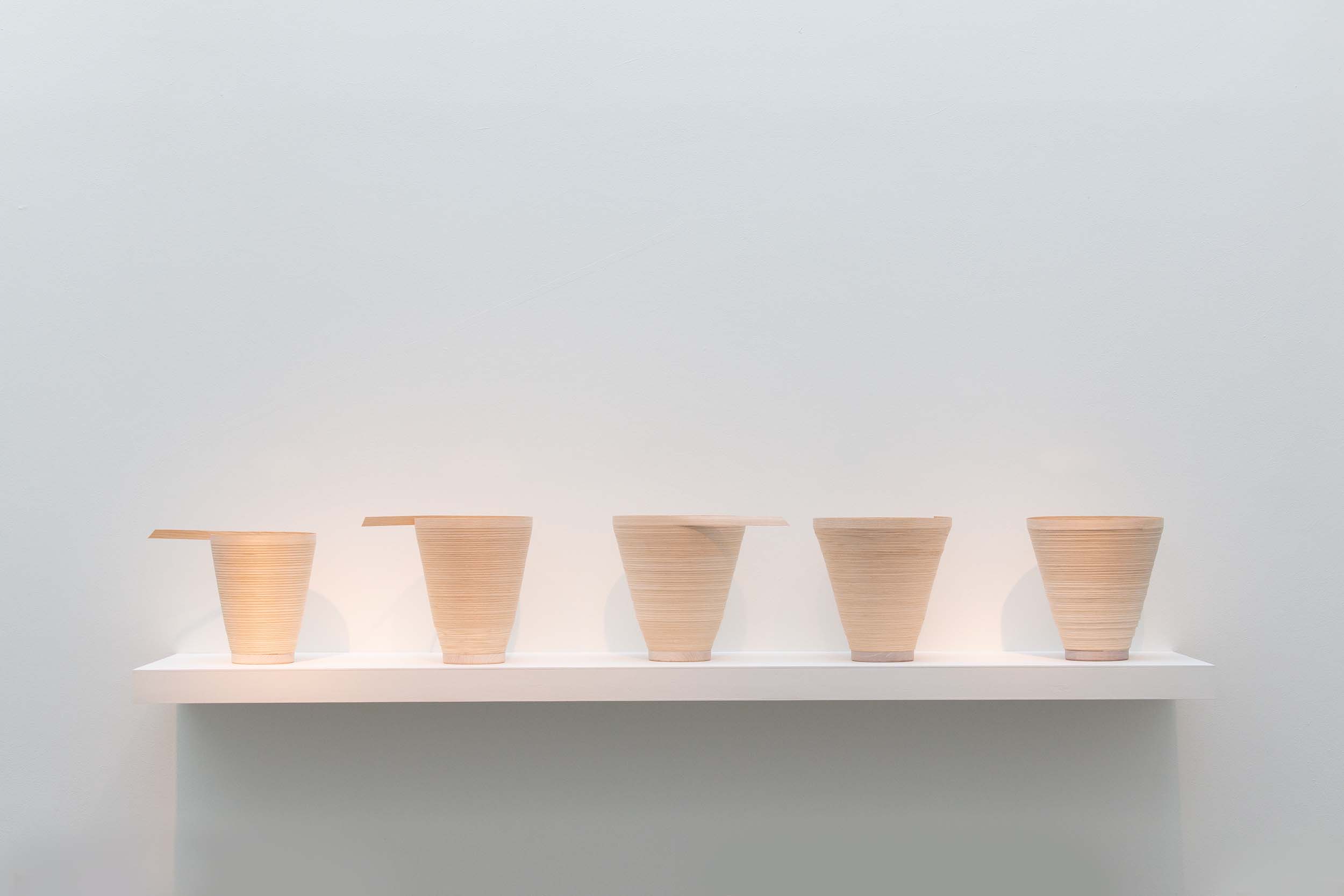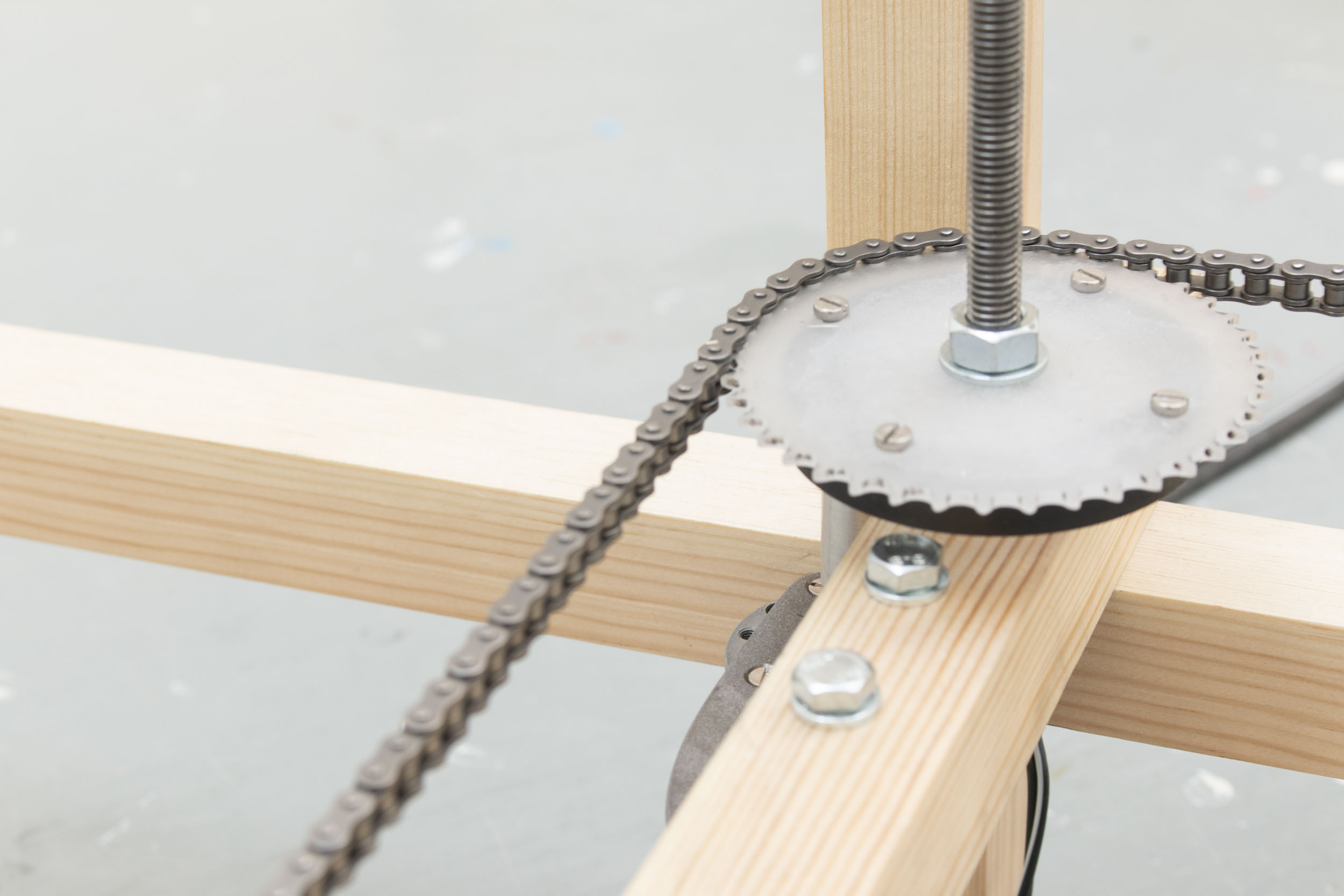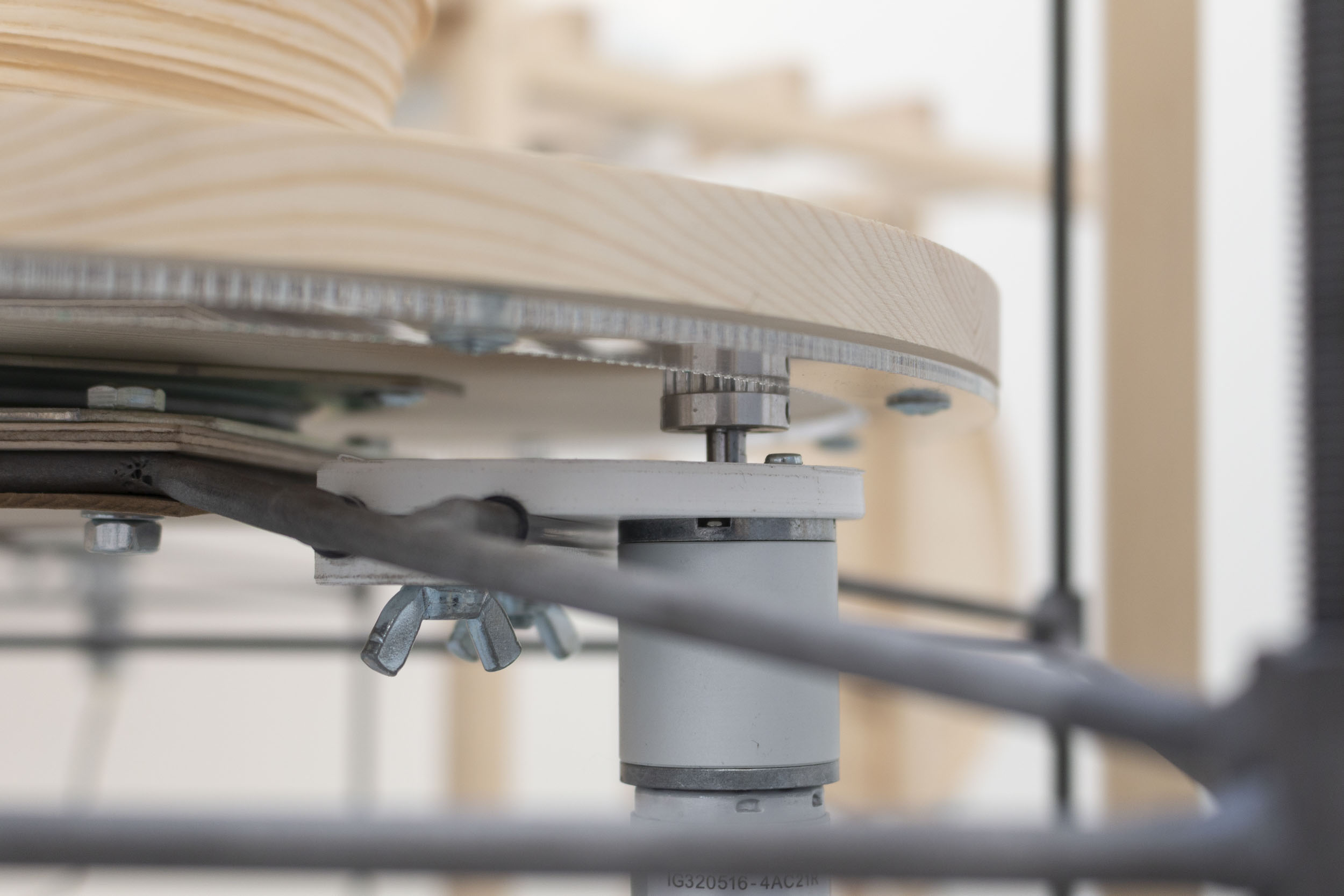 Microarchitecture

Independent project
Tool design concept.

Concept development
Sketching, CAD in Rhinoceros, prototyping in plaster,
Ergonomic studies, Free from forging.

Realisation
Forged and hardened carbon steel, Ash.
130 x 45 x 90mm
300g


The development of a hatchet was done by drawing, shaping and modeling processes involving plastolin, paper and plaster.
In a free-forging process the hatchet is plastically shaped. This method contrasts the subtractive form-finding process in plaster. In combination with the handle made from ash wood, the hatchet provides an ergonomic and functional unit.

Two advantages are obtained from the crimped and arched cheek, that also inspired the works title Microarchitecture: it provides a protective handle for the hand to cut off small chips when used like a carving knife and generates stronger splitting force.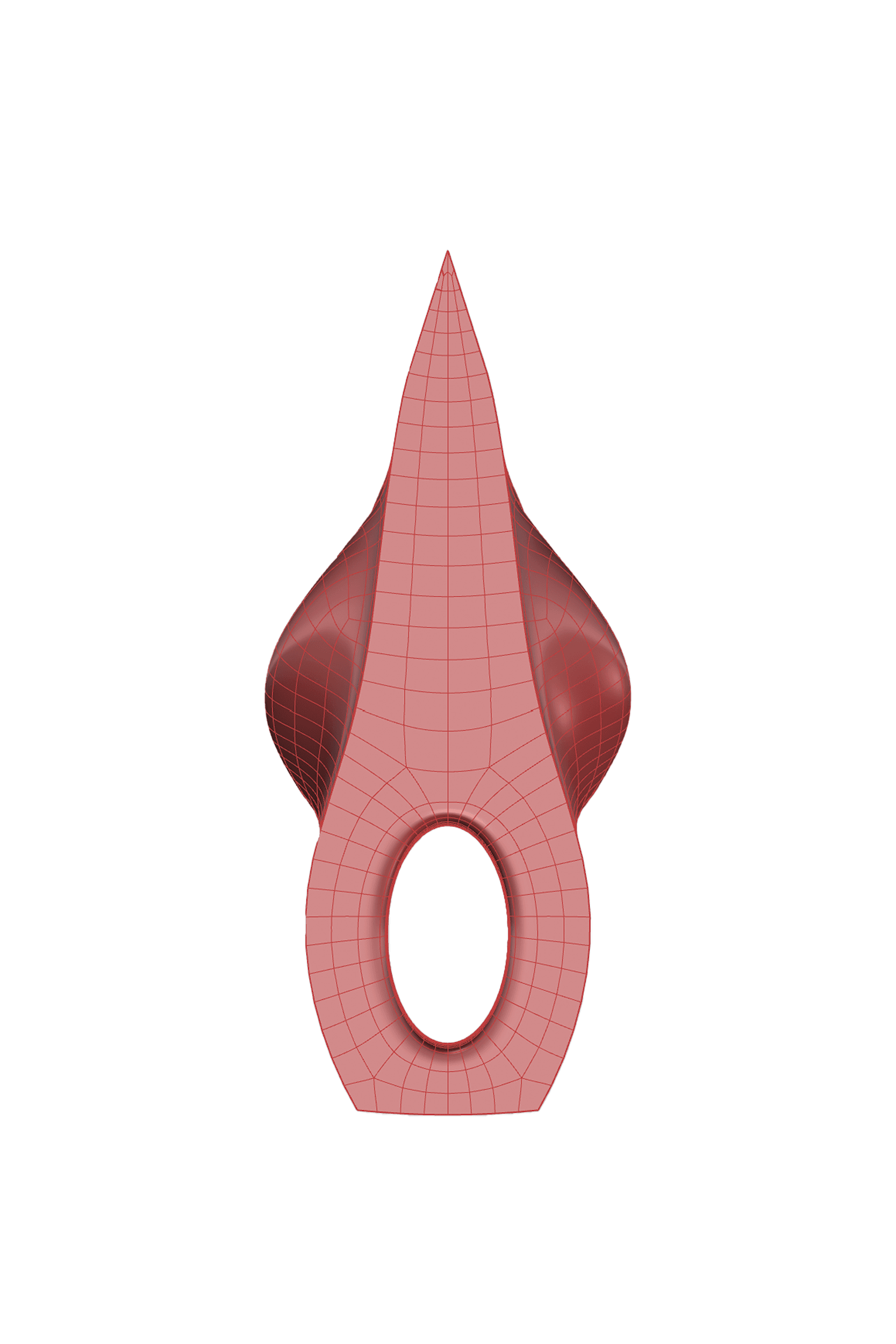 Kite Lamp

Independent project
Lighting design concept, Edition of 30 in two different sizes.

Concept development
Sketching, CAD in Rhinoceros, Visualisation in Blender, Prototyping in paper.

Realisation
Ash, Tyvek, Light fittings, textile cable.
368/448 x 160 x 160mm (Ø50 x 500mm packed)


The Kite Lamp draws its aesthetics from a thorough investigation of the aesthetics of kites. An object that has traveled through thousands of years of design iteration in different cultures where it was refined and shaped.

Similar to the kite, which consists of no redundand parts, this lamp follows a strict but simple construction, which is easy to assemble.
Its simplicity and lightweight combination of the used materials ash and Tyvek meet its timeless standard.

In this project the aspect of distribution has been considered carefully, resulting in the lamp being shipped in a small packed and well protected tube format.

Supernormal

Independent project
Furniture concept.

Concept Development
Sketching, CAD in Rhinoceros, Models in
cardboard/wood and 3D printing, Ergonomic studies,
Material experiments.

Realisation
Soldered, sand blased steel, Ash, Beech, Varnish.
800 x 600 x 520mm


Supernormal is an interpretation of a stackable chair with armrests that investigates and recomposes structural relations within a chair.

Supernormal challenges conventional connection methods as well as the popular idea of the personal relationship between user and furniture through the process of home-assembling.
The elements of the chair's structure are connected firmly to each other at the nodes by the use of metal wedges.